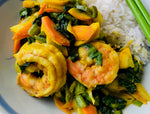 Kaua'i Golden Shrimp Curry
Ingredients
2 oz Slow Island Co. Kaua'i Turmeric Golden Curry Paste [Add more for a stronger flavored curry]
2 T. Vegetable or Coconut Oil
1 lb Shrimp - peeled and deveined
1-2 Cups Canned Coconut Milk (depending on how saucy you want the curry) 
1 Large Onion - diced
3 Cloves Garlic (minced)
Market Vegetables : Use Whatever is freshest at Market.. and whatever you like to eat! About 1 cup chopped of each vegetable you want to use. 
Cut vegetables into bite size chunks as close as possible to the same size. 
Carrot
Green Bell Pepper
Summer Squash
Green Beans
Leafy Greens - Kale / Collards / Bokchoy
Cherry Tomatoes - Halved
Fresh Herbs For Garnish (Cilantro, Mint, Thai Basil)
Salt or Fish Sauce– To Taste 
Pepper – To Taste
1-2 Tablespoons Coconut Sugar, Brown Sugar or Honey (optional but recommended) 
Instructions
Serves 4-6 with Rice on the Side
In a large Sauté Pan, Heat oil on medium-high heat. Add Curry Paste and sauté briefly until fragrant. 
Add Onion, fresh turmeric and longer cooking vegetables like Carrots and Sweet Potato. As they begin to soften, add in garlic and fish as well as softer vegetables like squash or green beans. 
Add 1/2 of the Coconut nut milk and allow to simmer - covered for 10-15 minutes or until Veg are cooked through. 
Uncover - Allowing liquid to evaporate and sauce to thicken slightly before adding green leafy vegetables and tomatoes. 
When the curry heats back up to a simmer, add Shrimp and remaining coconut milk. 
Season with Salt (or Fish Sauce), Pepper, and Brown or Coconut Sugar to taste.  When Shrimp is cooked through, serve immediately over rice, garnished with fresh herbs. 
[ Omit Seafood and Add Tofu and Starchy Vegetables for a Vegetarian Version of this Curry. ]