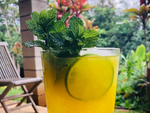 How do you enjoy your daily elixir? Our Slow Island Spritzer recipe is one of our favorite ways to drink it. It makes for a tall glass of hydrating beverage for a refreshing mid-day boost or as a stand-in for a cocktail at happy hour!
Slow Island Spritzer Ingredients & Instructions
8-12oz sparkling water 
Mint
Lime
Ice
Sweeten with agave or honey if desired.
Combine and Enjoy!